In early January 2011, Paul Soldner, one of the greats of American ceramics, passed away at his home in Claremont, California. He was eighty- nine.
Born in 1921 into a family of Midwest Mennonite Christians, Soldner's interest in art was sparked by his wartime experiences in the army medical corps, where, to quote Jori Finkel writing of Soldner in the Los Angeles Times, he saw … "beauty emerge from terror in the form of charcoal drawings made by Holocaust victims on the barracks walls of the Mauthausen concentration camp in Austria".
(Frinkel, J. Los Angeles Times 4 January, 2011)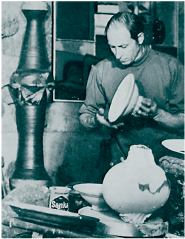 In 1954 Soldner became the first graduate student of Peter Voulkos in the newly established ceramics program at the Los Angeles County Art Institute. Like Voulkos, Soldner was given to experimentation and innovation and was also something of a showman, soon becoming what Garth Clark refers to … "as one of the stars of the "workshop circuit". (Clark, G. Shards, p.289)
It was during one of these workshops that Soldner famously 'discovered' his technique of 'American raku', where pots were drawn from the kiln and then 'smoked' in various ways to produce a range of effects much broader than those found in the original Japanese technique. But Soldner's oeuvre extended well beyond this, encompassing a wide range of ceramic techniques and forms.
Paul Soldner was a charismatic teacher and tireless maker who came to prominence at a time and in a place when ceramics was breaking many boundaries. He continued to contribute to the development of ceramics both in the United States and on an international level throughout a long and productive life, and he will be both celebrated and missed.
Damon Moon
Willunga 2011