David Fielding Gough Boyd was the fourth child of the famous Australian ceramicist (William) Merric Boyd and Doris (nee Gough) Boyd. He grew up in the family enclave known as Open Country, in the suburb of Murrumbeena, which was (then) on the outskirts of Melbourne. His childhood was unconventional, bohemian and artistically rich.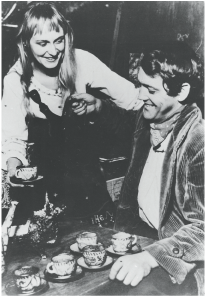 All the Boyd children helped out with the family ceramics business from an early age, and David was no exception. He studied music (he was a gifted pianist) and (briefly) painting in Melbourne, before moving to Sydney during the period 1946/47, where he helped his brother Guy Boyd (who was studying sculpture at the National Art School) establish a commercial pottery. This colourful, fashionable pottery was sold under the name of 'Martin Boyd Pottery' and it was a highly successful venture.
In 1947, David met the precociously talented Hermia Lloyd-Jones, a student at the National Art School. They married in 1948 and spent the rest of their life together, until Hermia passed away in 2000. From the late 1940s to the early 1960s, in Australia, England and Europe, David and Hermia Boyd made commercially successful and artistically adventurous ceramics. They left Australia to live in Europe (for the second time) in 1961, just as the Australian ceramics scene was coming of age, but there is no doubt that David and Hermia Boyd were the most successful Australian ceramicists of the post-war period.
Although they continued making ceramics in England into the 1960s, David's preoccupations had increasingly turned to painting, and his career as a potter came to a close. A full retrospective exhibition of the ceramics of David and Hermia Boyd is long overdue, and would shed a great deal of light onto a formative period of Australian ceramics.
Damon Moon
Willunga 2012
This article was published in The Journal of Australian Ceramics, Vol 51 No 1, April 2012.
Permission has been given to make it available on this website.
© The Australian Ceramics Association 2014
http://www.australianceramics.com/